Electronic Pollution or e-waste
It is a big question that where do the electronic things go after it is dead!!!!!!
We all must have heard about air pollution, water pollution, soil pollution and noise pollution but Electronic pollution is the new upcoming pollution which has been increasing terrifically with each passing day.
What are e-waste?
Electronic waste is also called as e-waste. It is hoarding as well as disposing of unused or irreparable, electronic items like mobile phones, television sets, computer sets, refrigerator, tape recorders etc. It includes a long unending list of electrical equipment. These may be classified into 3 parts. Recycled, Non-recycled and Risky
With technology advancement surplus in demand and surplus in supply leads to excessive wastage of products. With the release of new technology every year, people tend to adapt to a newer one rather old product. Thus it tends to another of clearance.
Sometimes we could find that people discard old electronics at the least inconvenience and prefer new ones. It is not being lousy but we find certain cases like buying the new printer is much cheaper than its ink cartridges. The distribution of price pushes people to buy new products.
The high cost of repairing the product also tends to more of displacing the old with the new one at a cheaper rate.
The waste could be managed by three methods; Reuse, Repair or Resale. But still, there would be a big question "Would it be entirely applicable for all electronic entities?"
Toxic and Hazardous
Most of the discarded products are set into open fire, which melts and releases harmful elements to the atmosphere. Carcinogens and neurotoxins when released into the air pollute and create smog which is very obnoxious.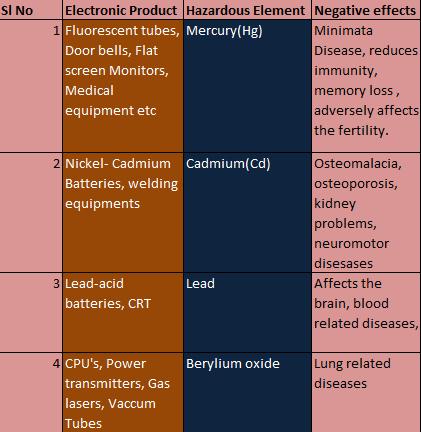 Methods to Reduce the e-waste
According to the world, a survey claims only 20% of the wastes are recycled and the rest are dumped. It estimates that 50 million metric tons of electronic wastes are produced each year.
The recent study declares that most of the dumping yards of the electronic waste are in the developing countries like India, China and some parts of Africa. Thus we can find out how much of Toxicity has been transfused in such nations.
Moreover, there is a huge global trade of used electronic elements. Those in support of such trade claim that recycling of elements like copper, gold and silver could be done from these e-waste than going of environmental mining activities. Repairing of old computers and electrical things claims to be quoted as "the Lost Art"
Certain parts of electronic systems have copper, lead, gold, aluminum, iron etc which could be reused or refurbished as per the demand. Reusing and refurbishing reduce major chunk of environmental damage.
Another conventional method is by Disposing of safely. e-waste are processed in four different ways; Melting circuit boards; igniting the cable cover for separating the copper; using series of chemical reaction to extract the metals; Cryogen application on printed boards.
Smelting is another process of recycling base metals as well as other metals present in the electronic items are extracted and reused.  Metals like copper, lead, silver, gold, iron, palladium etc are generally extracted in smelters.
Recent News
According to the survey reports, in the US, about $ 400 billion are spent on consumer electronics but only 30% are recycled e-waste. The disturbing numbers are just put us in a dilemma that what are the outcomes of rest 70%. Unfortunately, they are actually in the dump yard.
The biggest and the alarming issue is that India marks the second largest consumer market for mobile phones but it is the fifth largest country producing e-waste. Wherein according to the states Mumbai tops, followed by New Delhi, Bangalore and Chennai
Recently in Kochi, India, 80 consignments are seized by the customs stating all contained electronic waste which are imported from foreign countries including Germany and England. Now the consignments are kept under a vigil and inspection by the Customs and DGFT (Director General of Foreign Trade).
According to the report dated February 17th, 2017, China has topped in heaping the e-waste. There is an urgent need for an organization to cut the waste as much as possible as it could definitely lead to precarious consequences.
News proclaims that we have to take extreme steps to minimize the wastage and try to refurbish or resale the products rather shedding hay ware.
Policies and Organisation Erected
The International treaty, Basel Convention, helps to reduce the movements of hazardous waste from one country to the other. It is a Control of Transboundary Movement of Hazardous Wastes and its Disposal.
In the US, Environmental Protection Agency (EPA) maintains the list of American consumers who donate and recycle electronic products as well as give with tax benefits.
In Europe, WEEE (Waste Electrical and Electronic Equipment) manages the e-waste by three policies; Reduce, Reuse, and Recycle. By this management, the suppliers and the producers are given the sole responsibility to recycle the electronic products after certain level exhaustion.
In order to reduce the disposal, Japan has implemented two laws LPUR (Law for the Promotion and Effective Utilization of Resources) and LRHA (Law of Recycling specified Kind of Home Appliances). It emphasis both manufacturers and the consumers for effectively carry out the recycle.
In China, Guiyu is the region for e -waste disposal community. Therefore it is also called the "E-waste capital of the world". This poor area is totally dependent on reception of the e-waste of the world. It provides huge employment for the locals. But it adversely affects their health and environment as per the reports.
In Kochi, India, e-waste management has sorted out a solution where there is safe disposal. The City Corporation has joined with the state-run department agency, Clean Kerala Company Ltd to collect the e-waste and process scientifically. Any electronic items would be collected at the rate of Rs5/- per Kg, by contacting them by mail or telephone within a duration of 7 days. The email address is ewastecampaign@gmail.com
The following link will definitely put us in awe as to how much we are in danger due to electronic waste.