"January 14th 2017"- The Contemporary Of Festivals In India
The multi-linguistic, multi-genre and cosmopolitan India is a land of festivals. January'14, 2017, was an exact example of the diversity of festivals celebrated on this date in various parts of India.
In the month of January, 13th and 14th marks the onset of increase in daylight where the sun is observed to have northward direction. It happens immediately after the winter solstice (Between December 21st and December 22nd). January'14 usually observed as Makar Sankranti(Sun God festival),. In Sanskrit, the six months northward journey of the sun is called as Uttarayana.
The following are the states who celebrated simultaneously on this date:
Andhra Pradesh and Telangana
It is an event of 4 days in both the state.
Day 1 –> Bhoghi – Bonfire is made early at dawn to discard the things which are no longer useful. Thus it is a way of ceremonially and spiritually cleaning the home.
Day 2 –> Makara Sankranti – Wearing new clothes and offering Prayers to God for well-being
Day 3 – >Kanuma – It is mostly observed by the farmers wherein they pay their respect and decorate their cattle. It's also observed as thanksgiving for cattle
Day 4 —> Mukkanuma – celebrated mostly by the non-vegetarians. After observing 3 days of vegetarianism, this day they can consume non-veg. Some parts also celebrate by flying kites, cock fighting etc.
Assam
In Assam, the day is celebrated as Harvest day. It also called as Bhogali Bihu. Usually, it lasts for a week. People gather near the bonfires and have a gala time by having feasts and merrily dancing. Usually, people upright makeshift huts named as Bhelaghar, from bamboo and thatched leaves. They have a feast in Bhelaghar. And next morning they burn the huts. They prepare delicacies like Shunga Pitha, Til Pitha etc.
Bihar and Jharkhand
Similar to other parts of the country, this day is also celebrated for Good Harvest. The people worship by taking a dip in ponds and lake nearby as well as prayers and offerings to Sun God. Usually, they are involved in kite flying along with enjoying sumptuous delicacies like Khichdi, Dahi-chuda, Laddu made of til etc
Gujarat
Makar Sankranti is one of the big festival celebrated in Gujarat. It is also named as Uttarayan. It is observed for 2 days namely Uttarayan and Vasi-Uttarayan. This is the most awaited occasion for flying kites. When they cut the string, they scream words like "Kaypo chhe", "Phirki vet phirki" etc. The delicacies like Chikkis, Undhiyu are the favorite food savored.
Kerala
Makar Sankranti is keenly observed in Sabarimala,(The abode and temple of Lord Ayyapa). On this day the pilgrims and the devotees are able to observe the divine Makara Jyothi and Makara Villaku. The temple of Sabarimala is opened during 15th November to 25th December, Makar Sankaranti, Maha Vishu Sankranti (April 14/15), and first five days of Malayalam Month.
Maharashtra
Makar Sankranti is also one of the major festivals in this state. People prepare sweets made of sesame(til gul ladoo), Puran Poli, multicoloured halwa are usually exchanged with each other and wishes for betterment and prosperity. While exchanging the til laddoo, they say the words like"Til-gul ghyaa, aani goad goad bola"- Means please accept the til laddoo and utter only sweet words. It is also another way of expressing forget the shortcomings and rejuvenate the new relation by having sweet. The ladies perform Haldi-Kumkum and people here also involve in kite flying. 
Odisha
This day is also referred as Makar Sankranti wherein people perform traditional rituals and offer prayers to Sun God. In Konark Temple, special prayers and sound of conch shells would engulf the surrounding. Moreover, on this day certain group in western part of Odisha, perform a special ritual called "Makra Basiba"- Where a person ties a special friendship lace with one of his or her friends affirming the strength of friendship. Thereby if a man or woman ties this lace, they won't address their friend by names but by "Marshad"(for men)or "Makra"(for woman). Special dishes are prepared like Makra Chaula, Rosogolla, Chhenna pitha, Til-laddoo etc.
Punjab
People here celebrate the event of Lohri – Traditionally a celebration of the harvest of rabi crops(usually sugarcane). In the evening a bonfire is set where they pour milk and water to Sun God as well as toss on the Lohri which consist of rewaries, sugar candy, til, phuliya, groundnuts, gur, to the burning bonfire. They also sing folk songs, perform Bhangra and thereby paying respect to Dhulla Bhatti(a hero who served for Punjab during Mughal era).
Rajasthan and Madhya Pradesh
On this festival special food is prepared like til baati, gajak, phirni, kheer ghevar etc. Moreover, married woman invites and gift household items to 13 married women. The special feast is also called Sankrat Bhoj. Here also Kites flying on this day is the tradition.
Tamil Nadu
The event is of four days duration, it's  one of the major festival celebrated.
Day 1: Bhogi Pongal- Here the people remove old clothes and unnecessary things by setting them on fire showing elimination of evil forces
Day 2: Thai Pongal – The next day early in the morning new pots filled with rice, fresh milk, jaggery are allowed to boil till it spills over the pot. This food is also called Pongal which is offered to Sun God to bless with good things.
Day 3: Maattu Pongal – it is a thanksgiving ceremony for the cattle wherein they are decorated and fed with delicious food. Moreover, the famous Jallikattu- bull contest, is the main attraction.
Day 4: Kaanum Pongal – Here the people visit the relatives and rejuvenate the bond by offering thanks to them.
Uttar Pradesh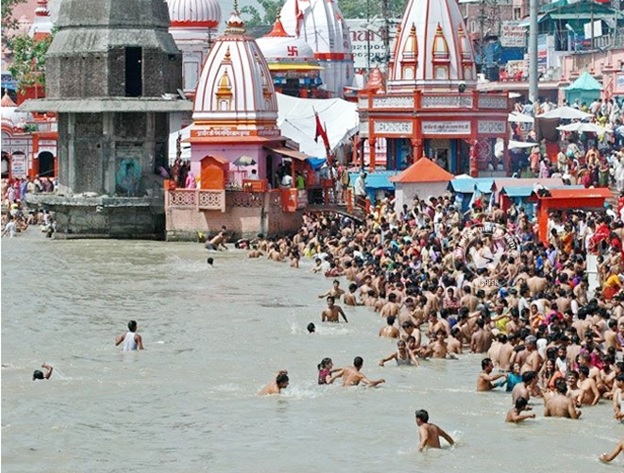 Kicheri is another name given to the festival. Usually, early in the morning people take a dip in the sacred pond or river in Haridwar (Uttarkhand), Varanasi and Allahabad. Kite flying is also favorite sport like in Gujarat and Bihar. They also prepare til-ladoo, gud-laddo as special sweets.
West Bengal
Makar Sankranti is referred here as Poush Sankranti and the harvest festival as Poush Porbon. Goddess Lakshmi is worshiped on this day. Various Bengali sweets like Pitha is prepared from Khejurer gur(date palmjaggery) and Patali(sugary syrup extracted from the sap of dates).